WE OFFER INTERNATIONAL SHIPPING
WE OFFER INTERNATIONAL SHIPPING
Where do we ship our products?
We ship most US states and Canadian locations via our preferred freight partner. For deliveries outside of these regions, a freight forwarder and payment by wire transfer are required. Please speak with a sales associate to inquire about shipping outside of the US and Canada.
We offer same-day courier flat rate shipping on aluminum and acrylic podiums to any location within the Greater Toronto Area. Wooden podiums must be shipped via freight truck and are packaged in a wooden crate.
Same-day courier/parcel service:
Aluminum and acrylic podiums are delivered by same-day courier to locations in the Greater Toronto Area.
Stand-alone accessories are delivered using Purolator parcel services.
Wooden podiums are delivered by freight truck, packaged in wooden crates on pallets.
Orders shipping to locations outside of the Greater Toronto Area must ship via freight truck.
Freight shipments are packaged in corrugated carton containers or wooden crates, placed on a pallet, and are delivered by full size semi-trailer truck or smaller size lift-gate truck, depending on the delivery method selected.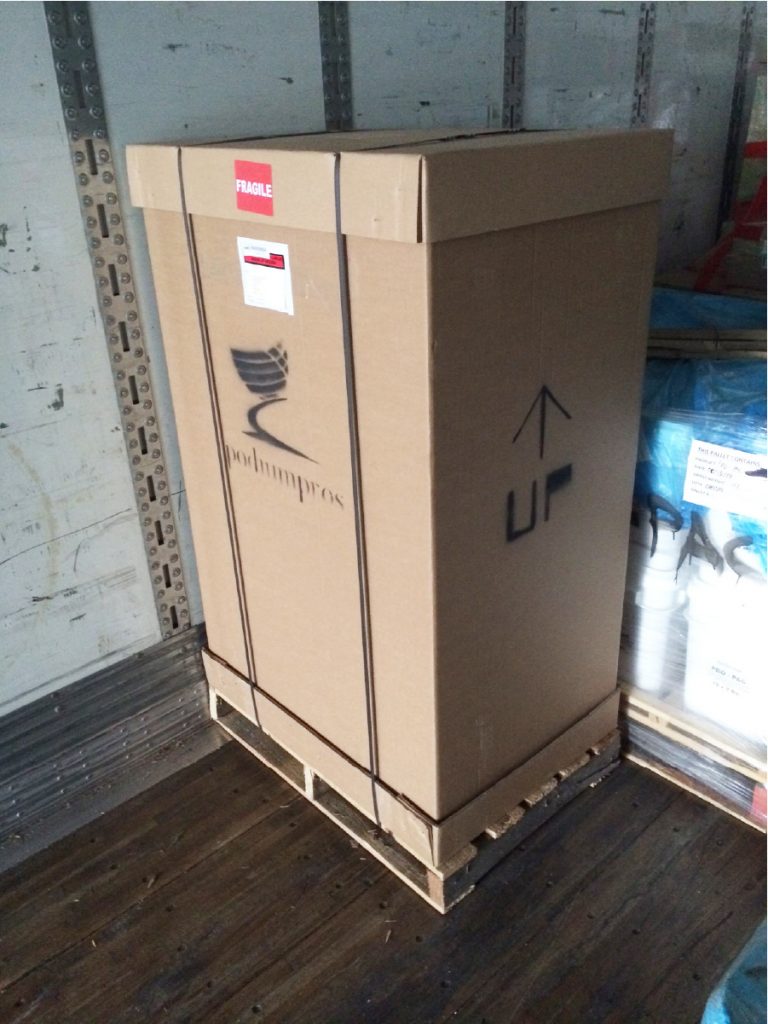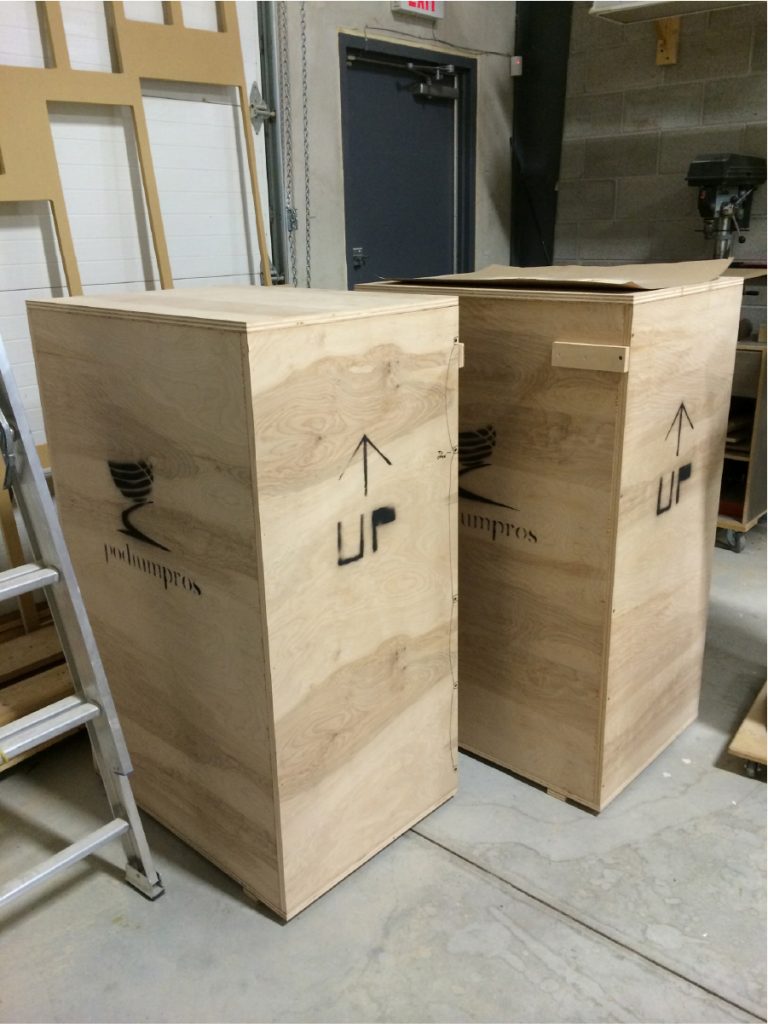 Wooden Crate Packaging Example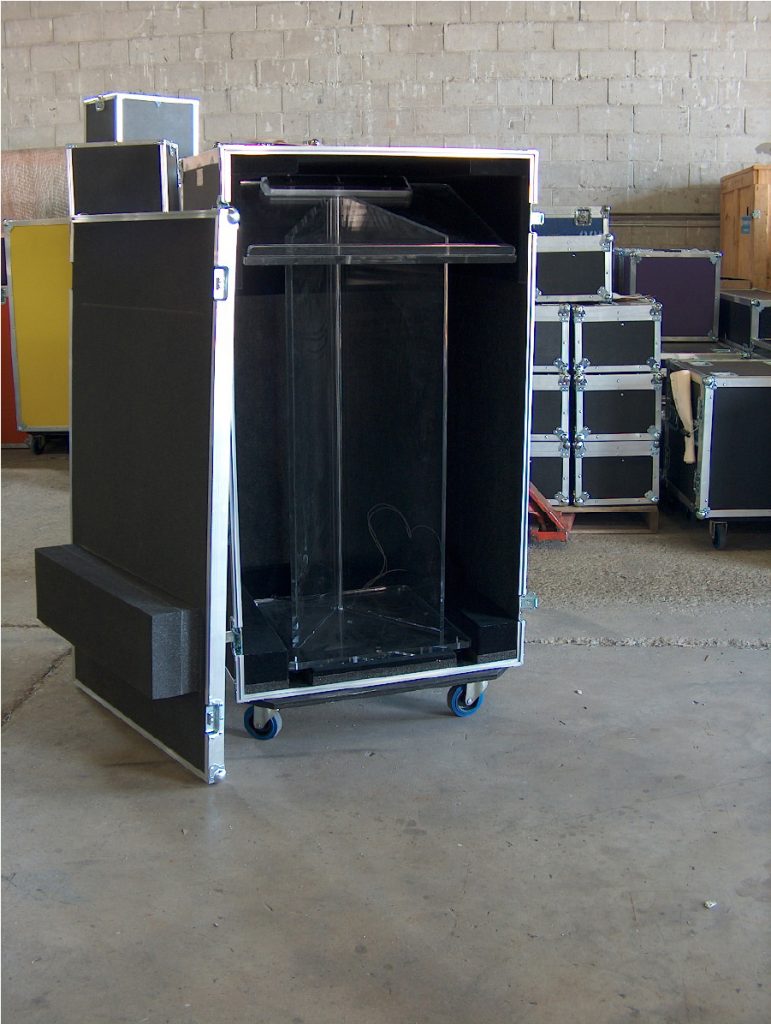 Road Case Packaging Example
Truck - general information and customer's responsibilities
Truck must be met at the delivery location
It is the customer's responsibility to meet the truck at the delivery location. Failure to meet the truck will result in additional charges for re-delivery, storage or return shipment. Any charges received from a missed or failed delivery will be passed on to the customer at cost.
Any damage that occurs after the shipment is delivered is the responsibility of the customer.
Please be certain to look for any possible damages prior to signing for the merchandise.
If any damage is suspected, please note the details on the carrier's Proof of Delivery (POD) or Delivery Receipt before the truck driver leaves.
If possible take pictures of any damage to the crate or packaging materials.
After uncrating/unpacking, if the product is damaged, save all packaging materials and Contact Us within 7 business days.
Items that ship by truck/freight are generally large in size. Please ensure that all doors and pathways are large enough for the product(s) ordered.
Generally, a width of at least 36" is required. Corners and stairwells may require larger widths for maneuvering and clearance.
The customer is responsible for all shipping charges if the items ordered do not fit through doors or pathways.
This includes initial and/or re-delivery charges, storage fees or return shipping if the incorrect delivery service level is chosen.
What qualifies as a loading dock?
A loading dock is necessary for items/orders too large for a package service. These shipments ship on a pallet via freight truck.
The standard shipping option with a freight company is via semi-trailer truck, requiring accommodation for a 53' trailer, unless a tail-gate (lift-gate) truck option is chosen.
A loading dock is not the same as a receiving/loading area. An elevated commercial loading dock allows a shipping truck to back up and roll the pallet(s) with just a pallet jack.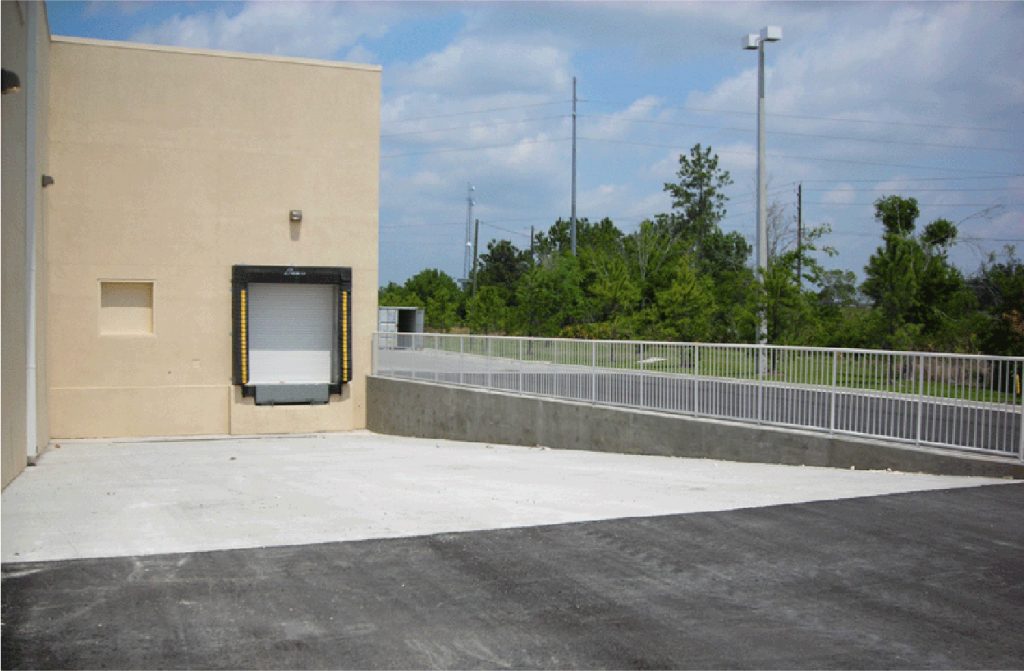 Commercial Loading Dock Example
Additional freight services available:
Lift-gate truck – tail-gate delivery
This delivery service includes a truck equipped with a hydraulic lift-gate for lowering the pallet/crate to ground level.
This service is required at time of delivery if a raised loading dock is not-existent or unavailable and the location does not have sufficient equipment to offload the merchandise from the truck.
Onsite staff must be available to receive the freight from the truck and bring it inside the building from the loading area.
Transit Time: 2-7 Business Days
Delivery Location: Ground Level; Outside of Building
Required When Loading Dock is Unavailable: YES
Onsite Staff Required to Receive Product Inside Building Away From Truck: YES
Inside handling delivery service
Inside delivery service is applicable when driver is required to go beyond the immediate area of the receiving door, required to deliver to a location other than the ground floor, and/or the handling unit of the freight exceeds the width/height of the receiving door and the driver must break down the unit to complete the delivery.
Inside delivery is applicable when the carrier is requested to perform a delivery (or pickup) at an area not located at the established receiving or shipping area, and not reasonably adjacent to the truck.
If the delivery is to another floor (other than the ground floor level) Inside Delivery must be selected, provided that the carrier has access to a freight elevator that can accommodate the carrier's standard freight handling tools (hand truck etc.) and there is no charge to the carrier for use of the elevator.
Transit Time: 2-7 Business Days
Delivery Location: Inside Building Away From Receiving Area
Required for Delivery Inside Building Other Than Ground Floor: Yes
Appointment delivery service
Appointment service is available if the delivery location requires the establishment of an appointment prior to attempting delivery that is time and date specific.
This service is recommended when booking inside handling service, specifically if the delivery location is in an office building suite with security and no staff on-site to assist at the loading/receiving area.
Transit Time: 3-12 Business Days
Delivery Location: Loading dock – if standard or tail-gate delivery service requested. Inside building – if inside handling service requested
Recommended With Inside Handling Service: YES
Limited access delivery service
This service is required for any freight delivery being made to a school, church, camp, farm, or residential location.
This service is recommended when booking inside handling service, specifically if the delivery location is in an office building suite with security and no staff on-site to assist at the loading/receiving area.
Transit Time: 3-12 Business Days
Required When Booking Delivery to the Following: School, Church, Camp, Farm, Residence Office Building Suite
Recommended with inside handling service: YES
Choose Podium Pros as your trusted source for high quality, customized, speaking lecterns.

1 Year Manufacturer Warranty

Customization and Branding


Exceptional Customer Service