LIGHTWEIGHT AND FUNCTIONAL
LIGHTWEIGHT AND FUNCTIONAL
The Aluminum Line offers a modern, sleek alternative to the average lectern. Each model is designed with various anodized aluminum extrusion profiles, a functional reading surface with paper stop, and heavy-duty tilt-back wheels for easy movement. The Aluminum lectern is lightweight, durable and aesthetically-pleasing, suitable for any facility. These products are very versatile, with logo branding and custom accessories available to personalize the lectern to suit your specific needs.

Designed to go wherever your next speaking engagement is, our aluminum lecterns are light, easy to move, and designed to last.

Custom Accessories & Branding
Let your podium do the talking. With customized branding and accessories designed just for your podium, you'll make a statement without saying anything at all.

All you have to do is unpack your aluminum podium, admire the customized details, and set it up on stage.

There's no waiting for wiring or troubleshooting how the mic should attach. Your podium is ready to use immediately, so you can focus your time where it's needed.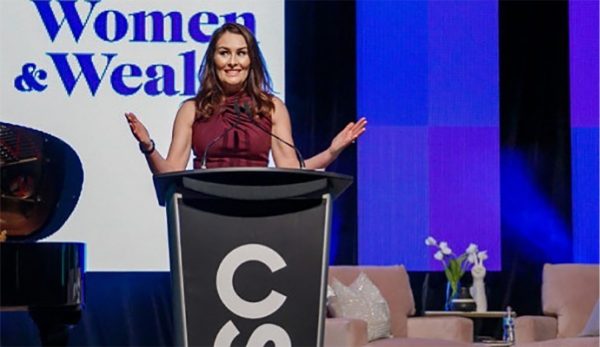 Aluminum lecterns are the perfect choice for your next event.
Gone are the stuffy podiums of yesterday. Welcome to the future of public speaking. 
Created with anodized aluminum extrusion profiles, our aluminum lecterns are designed to have it all: a reading surface with built-in paper stop, wheels for easy mobility, and plenty of options for customized branding. When every minute onstage matters, you want a podium that's versatile enough to rise to any occasion. Lightweight, sturdy, and with an effortlessly striking aesthetic, an aluminum lectern can be customized to meet your precise needs.
Shop for your next high quality, aluminum lectern.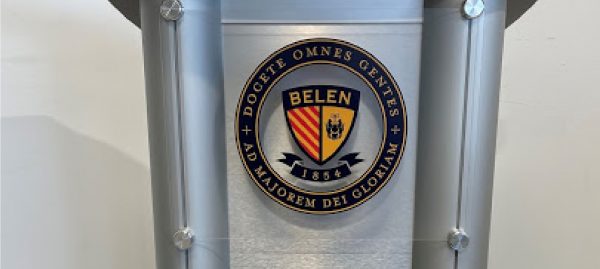 Podium Pros can customize your lectern with your logo. We offer many options including: vinyl and 3D acrylic backing, vinyl on acrylic sign holder, vinyl on magnetic sign system, full panel vinyl overlay. We can accommodate any graphic request, please contact us for more information.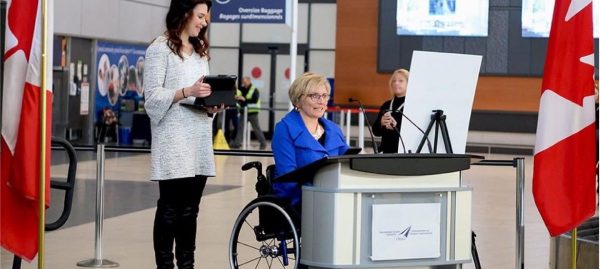 We offer solutions that reflect our commitment to a world that is more inclusive for people with disabilites. Our aluminum motorized accessible lectern is designed to be wheelchair accessible and can travel from it's lowest point of 27" to it's highest point of 40".

"Great experience ! Very thorough and professional help while designing the new podium. The product arrived in excellent shape and is quite beautiful. Glad we found Podium Pros . Yvonne was superb to work with and followed up all the way until the podium was on site."
"Our experience with Podium Pros was excellent! Great communication, and very reliable. Excellent product and customer service! The team went out of their way to support us and meet our needs. Our podium was delivered on time to an event and for purchase. It also had a personal touch as well! Highly recommend them!"
"We used the services of Podium Pros to provide us the a barrier at the front desk of our hotel to provide safety measures between our guests and staff. The units installed looked very professional and well made. The service was fast and very professional. I would not hesitate to recommend their services to anyone. Thank you for helping during these challenging times."
"Unbelievably easy process and great customer service. We bought this for graduation and it arrived ahead of schedule. The quality of the product was actually better than I expected. Best $2000 I've ever spent for a school improvement."
"From the moment I inquired about a product to the delivery of the product I ordered, I felt completely engage and attended to. The rep I worked with was so patient with my requests for different mock ups and demonstrated sincere concern for my satisfaction with the whole experience. I would definitely recommend Podium Pros Inc. to anyone looking for a quality product and positive service experience."
Choose Podium Pros as your trusted source for high quality, customized, speaking lecterns.

1 Year Manufacturer Warranty

Customization and Branding


Exceptional Customer Service