Frequently Asked Questions
Frequently Asked Questions
MANUFACTURING AND SHIPPING
How long does it take to manufacture a podium?
The aluminum and acrylic lines have a two week lead time on production, while the wooden line has an 8 – 10 week lead time, due to additional manufacturing and finishing steps required.
Do you ship to my location?
We ship all over North America with a preferred freight partner. Shipping outside of North America is possible as well. You may arrange your own freight to pick up from our location.
How is the podium shipped?
Our lecterns ship fully assembled. Most of the aluminum and acrylic lines are packaged in corrugated carton containers on pallets. The wooden line, VH2 aluminum model, Column Flare and Column FS are packaged in wooden crates, for an extra degree of protection.
How do I order a wooden podium?
Due to the custom nature of the wooden line, please contact a sales associate at 1-855-739-6745 to discuss options and formalize a quote.
Large format printing requires a special line-art file, often created in Adobe Illustrator by a designer. This file can have the following extensions: .eps, .ai, .svg. Only true vector logo files can be used in order to produce a high quality, crisp image, ready for branding on your podium. We do not accept .jpg, .png, or converted files.
Help, I don't have a vector file - what now?
That's OK! We offer to redraw or vectorize your logo for a nominal fee. You may provide a .jpg or .png to move forward with this service.
I want to interchange my logo, do you have a solution?
Yes – there are several logo interchange systems available. If the logo is always changing, the Antiglare Acrylic Sign Pocket Holder is recommended.
What if I have two variants of my logo and want to change them?
The magnetic sign system is great for this application. We print each of your logos on a magnetized backing, which is easily swappable via aluminum mounts on the podium front panel.
What is an XLR shock mount?
This is an industry standard microphone connection installed on the podium speaking surface to allow the connection of a slim gooseneck microphone. The shock mount features a quick-disconnect box at the base where the XLR cable will connect from your in-house PA system.
Help, the microphone I ordered does not work! What's wrong?
The AudioTechnica U857Q model offered does not power unless the PA system supplies the microphone with power. If power is not available via the PA system, a phantom power supply (additional accessory) is required. Please check your PA system model manual to confirm phantom power availability before placing an order.
Where do I put my hand-held microphone?
We offer the option to install a microphone holder onto the speaking surface. It is outfitted with a flange, gooseneck and clip. A 2" grommet hole is available on most models at no extra cost.
LIGHTWEIGHT AND FUNCTIONAL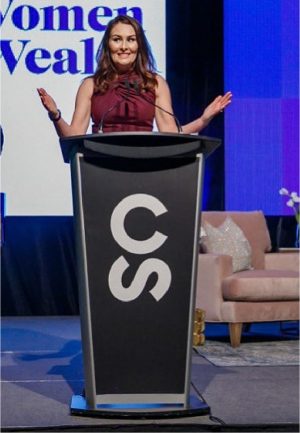 "Great experience ! Very thorough and professional help while designing the new podium. The product arrived in excellent shape and is quite beautiful. Glad we found Podium Pros . Yvonne was superb to work with and followed up all the way until the podium was on site."
"Our experience with Podium Pros was excellent! Great communication, and very reliable. Excellent product and customer service! The team went out of their way to support us and meet our needs. Our podium was delivered on time to an event and for purchase. It also had a personal touch as well! Highly recommend them!"
"We used the services of Podium Pros to provide us the a barrier at the front desk of our hotel to provide safety measures between our guests and staff. The units installed looked very professional and well made. The service was fast and very professional. I would not hesitate to recommend their services to anyone. Thank you for helping during these challenging times."
"Unbelievably easy process and great customer service. We bought this for graduation and it arrived ahead of schedule. The quality of the product was actually better than I expected. Best $2000 I've ever spent for a school improvement."
"From the moment I inquired about a product to the delivery of the product I ordered, I felt completely engage and attended to. The rep I worked with was so patient with my requests for different mock ups and demonstrated sincere concern for my satisfaction with the whole experience. I would definitely recommend Podium Pros Inc. to anyone looking for a quality product and positive service experience."
Choose Podium Pros as your trusted source for high quality, customized, speaking lecterns.

1 Year Manufacturer Warranty

Customization and Branding


Exceptional Customer Service